Dolph Ziggler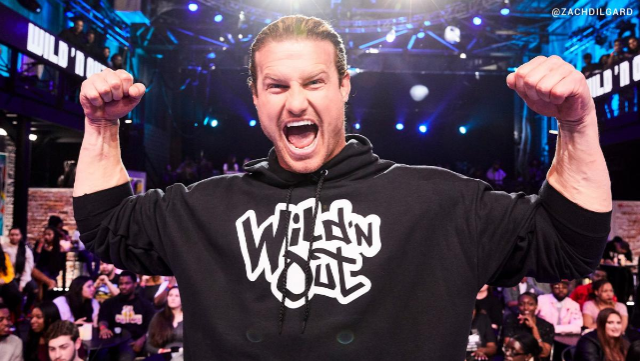 Dolph Ziggler is the kind of guy that makes other guys clutch their girlfriends a little closer. Not that it would help — the guy is slimier than his slicked-back blond hair.
An accomplished amateur wrestler, Ziggler set school records for wins at St. Edward's High School in Ohio, and again at Kent State University before parlaying his skills into a WWE contract. In 2008, this braggart first introduced himself to the WWE Universe by glad-handing every Superstar on Raw. Successfully introduced to just about everyone on the roster, Ziggler really made a name for himself after the 2009 Draft moved him to SmackDown, where he perfected his unctuous image and proved his mettle in high-profile contests against the likes of Rey Mysterio and John Morrison. In 2010, he defeated Kofi Kingston for his first big win, the Intercontinental Championship with shrill girlfriend–turned–"business associate" Vickie Guerrero attached to his side.
In 2011, Ziggler broke into WWE's upper echelon during a string of contests against Edge, in a rivalry that netted Ziggler a controversial, and short-lived, World Heavyweight Championship. It lasted less than 12 minutes. From there, he returned to Raw in the 2011 Draft, ultimately capturing the U.S. Championship and facing off with some of the ring's top stars, like Randy Orton, Daniel Bryan and Kofi Kingston.
Summer 2012 brought with it one of Ziggler's most impressive accomplishments. In a wild Money in the Bank Ladder Match for a World Heavyweight Championship contract, The Showoff managed to beat out seven other Superstars in the climb to the coveted briefcase, giving him a guaranteed title opportunity at any point in the next year.
With the Money in Bank contract in tow, Ziggler sent Chris Jericho packing from WWE before turning his attention to John Cena, joining Vickie Guerrero in her quest to expose the alleged inappropriate relationship between Cena and AJ Lee.
Ziggler was forced to put up or shut up at WWE TLC when his Money in the Bank contract was on the line in a Ladder Match against the Cenation leader. The night nearly ended terribly for The Showoff before AJ stunned the WWE Universe by hitting the ring and deliberately pushing Cena off the top of a ladder. The unexpected move allowed Ziggler to score the biggest victory of his career.
As 2012 drew to a close, The Showoff ditched Guerrero for his new squeeze, AJ Lee. The passionate Diva didn't come alone, though, bringing along her monstrous friend, Big E Langston.
Ziggler and his heavy soon set their sights on the WWE Tag Team Champions, Team Hell No, eventually challenging them to a match at WrestleMania 29. Unfortunately for Ziggler and his huge associate, they were unable to unseat the WWE Tag Team Champions at The Show of Shows, despite AJ's attempt at altering the course of the contest.
The following night on Raw, Ziggler finally cashed in his Money in the Bank contract, capitalizing on an ailing Del Rio, who was wounded by his previous match with Jack Swagger. After hitting Del Rio with a Zig Zag, The Showoff captured his second World Heavyweight Title and celebrated with AJ Lee and Langston! It's been a whirlwind for Ziggler since his big victory. The WWE Universe is buzzing, ex-girlfriends are begging him to get back together and he's got a shiny new championship that shows the world how damn good Dolph Ziggler is.
The celebration didn't last long, though. The Showoff now has to deal with both Del Rio and Swagger, who are furious with Ziggler's unwanted interjection in their rivalry. Ziggler had to face Swagger in a non-title match on Raw the following week. The "Real American" surprised Ziggler, rolling him up for a victory. Now, Ziggler has to defend his newly won title against both Superstars in a Triple Threat Match at Extreme Rules.
Another twist was put on the match on the April 29 edition of Raw. After Ricardo Rodriguez won a Triple Threat Match, Alberto Del Rio was allowed to choose the stipulation for the match. Now, The Showoff will have to climb above his two challengers to retain his title in a Ladder Match.
Ziggler is proving there's no limit to his arrogance, no filter to his condescension and no ceiling to his talent. He's good, he knows it and, unfortunately, he wants you to know it, too.