JT Habersaat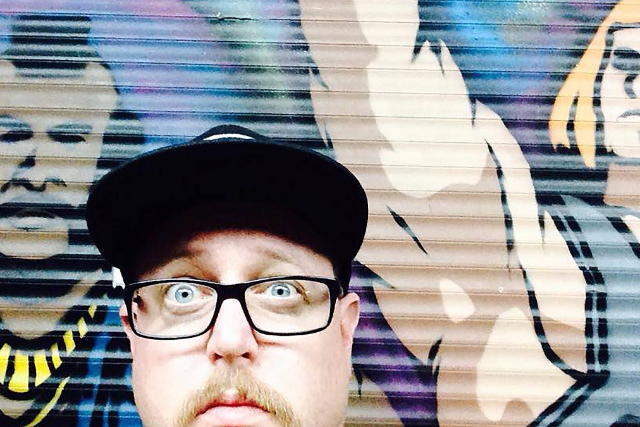 A native New Yorker currently calling Austin, Texas home, JT Habersaat has headlined and curated the Altercation Punk Comedy Tour since its inception in 2008, averaging 130+ shows per year. He is currently signed to Stand Up! Records. His Altercation Tour album 'Hostile Corporate Takeover' was released on vinyl in 2013, featuring cover art by Raymond Pettibon (Black Flag, Sonic Youth), and his one-hour comedy special 'Misanthrope' shot to #2 on the Itunes Top 200 Comedy Charts upon its release in August 2016. His most recent album is a limited edition vinyl split with Mishka Shubaly, also released by Stand Up! Records and Grammy-winning executive producer Dan Schlissel.

JT has performed with many comedic powerhouses such as Brian Posehn, Ben Roy, Kyle Kinane, Joe Sib, Janeane Garofalo and more. Habersaat is also a consistent performer alongside many of Doug Stanhope's Unbookables crew, including Kristine Levine, Mishka Shubaly, Andy Andrist, Henry Phillips and Brett Erickson. He has appeared numerous times as a guest on the Doug Stanhope Podcast, as well as on Eddie Pepitone's Peptalks Podcast.


JT is a consistent requested support act for many punk and indie bands, recently performing with such notable peers as Teenage Bottlerocket, Off With Their Heads, Sloppy Seconds, The Murder Junkies, The Sword, The Adolescents, Lower Class Brats, Chuck Ragan, M.O.D., Riverboat Gamblers, Dead To Me and more. JT also remains one of a handful of comics ever invited to share the stage with Black Flag's Henry Rollins.

Habersaat is a repeat headline performer at numerous festivals, including Punk Rock Bowling Las Vegas, Akumal Comedy Festival Mexico, Fun Fun Fun Fest Texas, The Fest Gainesville, Vans Warped Tour, Bird City Comedy Fest Arizona and Pouzza Fest Montreal. His television and film roles include appearances on Comedy Central's 'Upright Citizen's Brigade', Troma Film's 'Toxic Avenger 4' and many more.

JT is the author of 'The Altercation Archives', published in 2012 and currently in its 2nd printing, and his new novel 'Killing For A Living' was released in summer 2018. JT has also contributed a chapter to Chuck Ragan's (Hot Water Music) novel 'The Road Most Travelled', and hosts the weekly TheRoadPodcast.com, which currently boasts well over 40K downloads. JT has guest hosted on national broadcast radio station 'Today's Comedy' as a featured comedian of the week, and in October 2018 was invited to join Joe Sib and Jim Breuer on the road as they opened arena shows for thrash legends Metallica.

JT initiated and curates the annual Altercation Comedy Festival in Austin, Texas every September, which New York Magazine recently included on its list of 'best comedy festivals in the world'. In July 2019, JT was given the honor of being named 'Drunkard of the Issue' in Modern Drunkard Magazine. When not on tour he enjoys bourbon, his cats and silence.